UCP - Universidade Católica Portuguesa
The program focused on Social Sciences, Humanities & Business
Universidade Católica Portuguesa (UCP) was founded more than 50 years ago, and has distinguished itself for the renewal of teaching models and the introduction of innovative academic training, always oriented to put knowledge at the service of the common good. Ever since then, has meaningfully contributed to the Portuguese society, through a path of consolidated and sustainable growth, carved by its autonomy and independence in the fulfilment of its mission
UCP's drive for excellency granted the position of #1 University in Portugal in the Times Higher Education World University Ranking (THE WUR2020).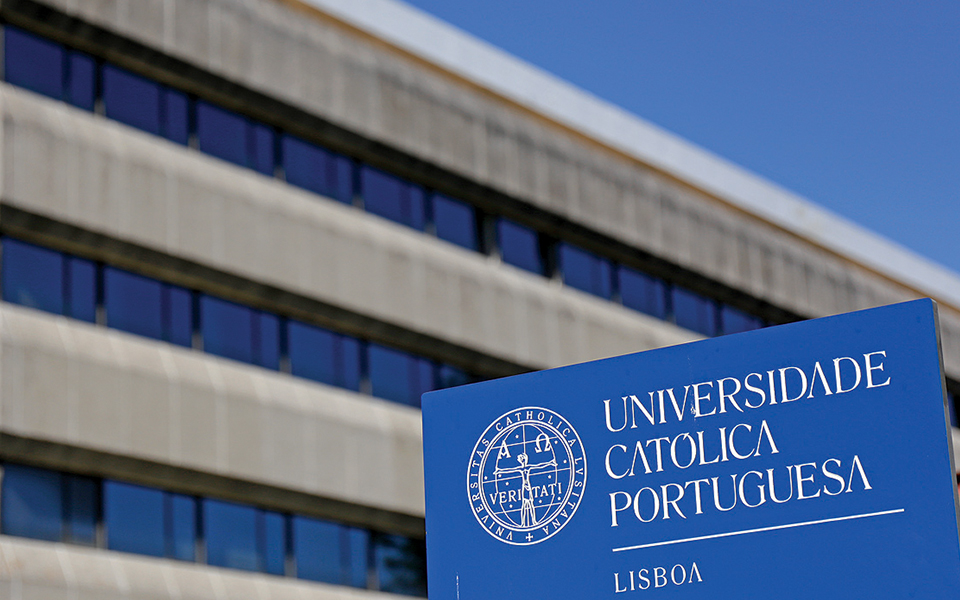 Faculty of Human Sciences
The School of Human Sciences runs a broad variety of undergraduate, master and doctoral programs in the humanities and social sciences. The teaching undertaken in the School leverages the research carried out in its two research centers – the Research Center for Communication and Culture and the Católica Research Center for Psychological, Family and Social Wellbeing.In 2019 three of its programs were ranked among the best in the world according to Eduniversal: MA in Culture Studies (#4 worldwide in Culture and Arts Management, MA in Communication, Organization and Leadership (#12 in Europe in Communication), and MA in Communication, Marketing and Advertising (#19 in Europe in Marketing).With faculty members from over a dozen countries and with diverse and solid research experience, the School attracts a growing number of international students arriving from each of the five continents and is known for organizing international schools, namely the Summer School for the Study of Culture and the Lisbon Winter School for the Study of Communication (in partnership with the Annenberg School for Communication at the University of Pennsylvania, the London School of Economics and Political Science, the Chinese University of Hong Kong and the University of Helsinki).
Católica Lisbon School of Business and Economics
Católica Lisbon School of Business and Economics is a triple crown accredited School ranking 25 on the Financial Times Business School List. Membership in this Elite group means the School is among the top 1% of business schools worldwide to be accredited by all 3 management associations EQUIS, AMBA and AACSB. CLSBE is the only Portuguese School among the FT Top 25 and the best Business School in Portugal for the 7th year. Currently, 40% of CLSBE's Professors are foreign and come from diverse countries, such as Italy, Turkey, Canada and Finland. The increased internationalization of the School can also be felt in the classroom, where more than half of the students are foreign, representing more than 50 nationalities.
Take a look at SiPN's partner Universities course offerings and choose the one that better suits you
Other SiPN Partner Universities:
BACK TO UNIVERSITIES AND COURSES
UCP - Universidade Católica Portuguesa
Course offerings
Course Title
School
ECTS
Contact hours
Term
Syllabus
Core Curriculum Offerings
Cultural and Creative Industries
FCH
5.5
45
SPRING
Download here
European Integration
FCH
5.5
45
SPRING
Download here
Portuguese Contemporary History
FCH
6
45
SPRING
Download here
Portuguese Culture and Society
FCH
6
45
SPRING
Download here
International Management
CLSBE
NA
NA
SPRING
Download here
Entrepreneurship and Innovation
CLSBE
NA
NA
SPRING
Download here
Applied Data Analytics
CLSBE
NA
NA
SPRING
Download here
Cross-Cultural Management
CLSBE
NA
NA
SPRING
Download here
Direct enrollment courses – Taught in English
Culture and Globalization
FCH
5
45
SPRING
Download here
Cultural and Creative Industries
FCH
5
45
SPRING
Download here
Fundamental Issues of European Integration
FCH
5
45
SPRING
Download here
Portuguese Contemporary History
FCH
6
45
SPRING
Download here
Investigative Journalism
FCH
5
45
SPRING
Download here
Representation Theories
FCH
5
54
SPRING
Download here
Translation History and Theories
FCH
5
54
SPRING
Download here
War Studies
IEP
5.5
NA
SPRING
Download here
Conservatisms
IEP
5.5
NA
SPRING
Download here
Homer: Politics, War and Life
IEP
5.5
NA
SPRING
Download here
Power, Law, and Liberty
IEP
5.5
NA
SPRING
Download here
Introduction to Politics, Philosophy and Economics
IEP
5.5
NA
SPRING
Download here
Finance II
CLSBE
7.5
72
SPRING
Download here
Organizational Behaviour
CLSBE
6
62
SPRING
Download here
Cost Accounting
CLSBE
6
62
SPRING
Download here
Econometrics
CLSBE
7.5
72
SPRING
Download here
Macroeconomics
CLSBE
7.5
72
SPRING
Download here
Money and Financial Institutions
CLSBE
6
62
SPRING
Download here
Microeconomics
CLSBE
7.5
72
SPRING
Download here
Statistics II
CLSBE
7.5
72
SPRING
Download here
Finance I
CLSBE
7.5
72
SPRING
Download here
International Economics
CLSBE
7.5
72
SPRING
Download here
International Corporate Finance
CLSBE
7.5
72
SPRING
Download here
International Management
CLSBE
6
62
SPRING
Download here
Operations Management
CLSBE
6
62
SPRING
Download here
Strategy
CLSBE
6
62
SPRING
Download here
Public Economics
CLSBE
7.5
72
SPRING
Download here
Microeconomics II
CLSBE
7.5
72
SPRING
Download here
Open-Economy – Macroeconomics
CLSBE
7.5
72
SPRING
Download here
Portuguese Language for Foreigners Classes
Portuguese Language Course for Foreigners (A1)
FCH
4
45
Fall & Spring
Download here
Portuguese Language Course for Foreigners (A2)
FCH
4
45
Fall & Spring
Download here
Direct enrollment courses – Taught in Portuguese
The lists of the courses taught in PT are provided individually to students who contact semester@studyinportugalnetwork.com. If you are interested in taking, one course or all of your coursework taught in PT you should know in advance that Universidade Católica has courses taught in Portuguese in the following fields of study:
Social and Cultural Communication Studies
Political Science
Psychology
Applied Foreign Languages
Social Work
Course Title
School
ECTS
Contact hours
Term
Syllabus
Core Curriculum Offerings
Politics and Development of Contemporary Portugal
FCH
5
45
FALL
Download here
Portuguese Culture and Society
FCH
6
45
FALL
Download here
Portuguese Film
FCH
6
45
FALL
Download here
The Pursuit of Happiness: from Philosophy to Political Economy
IEP
5.5
54
FALL
Download here
Strategy
CLSBE
6
62
FALL
Download here
Organizational Behaviour
CLSBE
6
62
FALL
Download here
Marketing
CLSBE
7.5
72
FALL
Download here
Finance I
CLSBE
7.5
72
FALL
Download here
Direct enrollment courses – Taught in English
Advertising Analysis
FCH
5
45
FALL
Download here
Contemporary Issues
FCH
5
45
FALL
Download here
Cultural Management
FCH
5
45
FALL
Download here
English Culture
FCH
5
45
FALL
Download here
Great Books
FCH
6
45
FALL
Download here
Intercultural Communication
FCH
5
45
FALL
Download here
Marketing and Advertising
FCH
5
45
FALL
Download here
Museum Studies and Heritage
FCH
5
45
FALL
Download here
North-American Culture
FCH
5
45
FALL
Download here
Organizational Communication
FCH
5
45
FALL
Download here
Portuguese Contemporary History
FCH
6
45
FALL
Download here
Theories of Culture
FCH
5
45
FALL
Download here
Human Rights
IEP
5.5
45
FALL
Download here
The Pursuit of Happiness: from Philosophy to Political Economy
IEP
5.5
45
FALL
Download here
Econometrics
CLSBE
7.5
72
FALL
Download here
Economy History
CLSBE
6
62
FALL
Download here
Finance I
CLSBE
7.5
72
FALL
Download here
Finance II
CLSBE
7.5
72
FALL
Download here
Governement and Business
CLSBE
5
54
FALL
Download here
International Economics
CLSBE
6
62
FALL
Download here
Marketing
CLSBE
7.5
72
FALL
Download here
Microeconomics I
CLSBE
7.5
72
FALL
Download here
Organizational Behaviour
CLSBE
6
62
FALL
Download here
Operations Management
CLSBE
6
62
FALL
Download here
Open Economy – Macroeconomics
CLSBE
7.5
72
FALL
Download here
Product and Costument Management
CLSBE
5
54
FALL
Download here
Statistics II
CLSBE
7.5
72
FALL
Download here
Strategy
CLSBE
6
62
FALL
Download here
Topics in Marketing
CLSBE
5
54
FALL
Download here
Portuguese Language for Foreigners Classes
Portuguese Language Course for Foreigners (A1)
FCH
4
45
Fall & Spring
Download here
Portuguese Language Course for Foreigners (A2)
FCH
4
45
Fall & Spring
Download here
Direct enrollment courses – Taught in Portuguese
The lists of the courses taught in PT are provided individually to students who contact semester@studyinportugalnetwork.com. If you are interested in taking, one course or all of your coursework taught in PT you should know in advance that Universidade Católica has courses taught in Portuguese in the following fields of study:
Social and Cultural Communication Studies
Political Science
Psychology
Applied Foreign Languages
Social Work